Mt. Sterling Auto Injury Chiropractor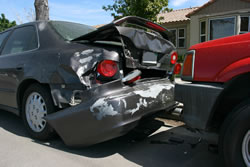 At Linton Chiropractic Joint and Spine Center, we're committed to helping Mt. Sterling patients find relief after auto injuries. Dr. Robert Linton has extensive experience and training in the diagnosis and treatment of auto accident injuries.
Often, patients come into our Mt. Sterling office complaining of symptoms of headache or neck pain after a car accident without realizing the underlying root of their pain, such as a rotator cuff injury or ligament damage. Dr. Linton will work with you to identify the source of your pain, and create a treatment plan to get you back on the road to health.
Dr. Linton is a chiropractic orthopedist, which means his training exceeds standard chiropractic education, so he can treat the entire neuro-musculoskeletal system, not just the spine. This enables him to assess the entirety of an auto injury, including potential ligament, joint, muscle, and neurological damage. He focuses on the non-invasive components of orthopedics to deliver effective conservative treatments such as chiropractic care, massage, exercise therapy, and more.
What Auto Injuries Do You Treat?
Here are some of the more common auto injuries Dr. Linton treats:
Neck Pain
Whiplash
Headache
Shoulder Injuries and Pain
Back Pain
Disc Herniation
Spinal Stenosis
Rotator Cuff Injury
Widespread, Chronic Pain
Radicular Pain (Cervical and Lumbar Radiculopathy)
Joint and Hip Injuries
Concussion Diagnosis
Do I Need to Seek Treatment After an Auto Injury?
Immediately after a crash, it's common for victims to walk away without feeling any pain, only to wake up the next day in significant discomfort. Sometimes people assume they're only experiencing mild aches and pains, so they decide not to seek medical attention. However recent research suggests that delaying treatment can actually prolong the symptoms of whiplash and related auto injuries. That's why seeking early treatment is so crucial for preventing chronic pain.
Additionally, if you are involved in litigation, it's important to begin documenting your injury as soon as possible. Dr. Linton is trained in medical report writing and forensic risk analysis after motor vehicle collisions, and is a certified Chiropractic Insurance Consultant, so can assist you in the process.
Chiropractic and Auto Injuries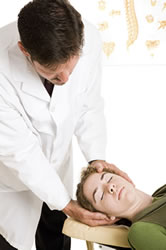 Dozens of medical studies have shown how chiropractic and exercise rehabilitation can effectively reduce symptoms in patients with whiplash and other auto injuries.
In one study, 93% of whiplash patients reported significant relief after receiving a combination of chiropractic care and exercise therapy. This combined treatment has also proven to be effective for patients' back pain, cervicogenic headache, migraine, and more.
If you're suffering from pain after an auto accident, Linton Spine and Joint Chiropractic Center can help. We serve a broad community in Mt. Sterling, Lexington, Winchester, Paris, Carlisle, Flemingsburg, Montgomery County, Menifee County, Powell County, Clark County, and Bath County. Call our office for auto injury relief today at (859) 499-1009.
References
Balthazard P, et al. Manual therapy followed by specific active exercises versus a placebo followed by specific active exercises on the improvement of functional disability in patients with chronic non specific low back pain: a randomized controlled trial. BMC Musculoskeletal Disorders 2012; 13: 162. doi:10.1186/1471-2474-13-162.
Christensen KD, Buswell K. Chiropractic outcomes managing radiculopathy in a hospital setting: a retrospective review of 162 patients. Journal of Chiropractic Medicine 2008; 7 (3): 115-25.
Jull G, Trott P, Potter H, et al. A randomized controlled trail of exercise and manipulative therapy for cervicogenic headache. Spine 2002; 27(17):1835-1843.
Lystad RP, Bell G, et al. Manual therapy with and without vestibular rehabilitation for cervicogenic dizziness: a systematic review. Chiropractic and Manual Therapies 2011;19(1):21. doi: 10.1186/2045-709X-19-21.
Woodward MN, Cook JCH, Gargan MF, Bannister GC. Chiropractic treatment of chronic 'whiplash' injuries. Injury: International Journal of the Care of the Injured 1996;27(9):643-645.